Another Esri UC is in the books and being the first in-person meeting in 3 years, it was a whirlwind of networking, learning, and all things mappy! This year I was lucky enough to bring along MBS' Data Science and Analytics Practice Lead, Matt Swaffer, for his first ever UC to get his perspective on the integration of data science and spatial analysis. Check out each of our top 3 takeaways from this year's User Conference.
Brad's top 3 takeaways:
Containerization of ArcGIS Enterprise – ArcGIS Enterprise on Kubernetes was released in 2021, and the team at Esri has been hard at work building out more capabilities. As MBS has written about before, we have put this deployment through the wringer with impressive results. ArcGIS Enterprise 11.0 has now been released, and for Kubernetes that includes some exciting enhancements, perhaps the biggest of which is Autoscaling. This is the ability to set utilization thresholds on an environment that, once reached, horizontally scales pods without intervention from an administrator. Once demand subsides, the pods will automatically be scaled back down to their normal levels. This is a huge enhancement that will better handle the degradation of performance due to unforeseen demand of services and resources on ArcGIS Enterprise.
Enterprise Level Analytics – Investment in analytics platforms continues to be in focus at Esri, which shows better accessibility and added integrations to products like GeoAnalytics Engine's Spark integration and ArcGIS Velocity for real-time IoT analytics. One new product that I will continue to watch is ArcGIS Knowledge. The addition of geographic context with knowledge graphs takes the relationship of data to a new level, helping to expose new insights that have been traditionally difficult to see, particularly in the monitoring of supply chains. This is definitely an area to keep an eye on, with much more to come.
The Little Things – Esri has made enhancements to ArcGIS Pro and Catalog that users have been asking for going back as long as I can remember. In the plenary session, Kelly Holleran showed us the ability to now sort features by modified date and size! Additionally, the ability to rename a folder using an alias that won't break your paths has been added. These may seem like very minor enhancements, but it makes the analyst in me extremely happy.
Matt's top 3 takeaways:
Spatial Statistics – Esri has a robust set of statistical analysis tools. The ability to do cluster analysis for spatial data is a no-brainer but they also have some time-series analysis abilities with change-point detection for space-time cubes. I'm still digging into the implementation details for these models but the built-in tools appear to be quite useful.
Spatial Data Science – The most common use case for data science in geospatial data is to use computer vision techniques to analyze satellite imagery. Moving beyond that, Esri is very interested in supporting data science techniques (prediction and prescription modeling specifically) by both incorporating external data into the geospatial platform as well as exporting spatial features for use in models outside of the Esri toolset.
R and Python integration – Python and R are the core tools for data scientists and analysts. Esri appears to be committed to building bridges to these tools both through their integrated notebooks as well as the R-ArcGIS bridge tool.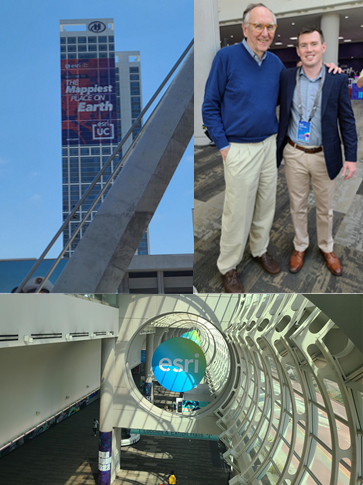 It was incredible seeing everyone back in person in San Diego this year. While the past 2 years of virtual attendance were great, it was apparent that the magic invoked from in-person conversations has been sorely missed. The passion and innovations of geospatial technology were in full swing, and we at MBS are here to put that passion to work!