MBS provides an entire Geospatial service solution across GIS enterprises including:
Geospatial Platform Setup and Administration for Your Business:
MBS has set up (installed and configured) appropriate enterprise (Cloud service) hardware and associated geospatial and administration software, such as installing and configuring ArcGIS Server and Portal to support a variety of geospatial platform needs. Such as:
Nationwide federal land applications
Nationwide irrigation business and financial tracking applications
Power project engineering, field collection, and administration application
Geospatially Enable Your Tabular Data:
From there, MBS has geospatially enabled tabular data so the data can be consumed along with other, readily available spatial data such as aerial photography, planimetric contextual data, and other industry data associated with a variety of specialized businesses. Such as:
Cadastral, land title and PLSS data
Irrigation, power, and safety of dams infrastructure
Forestry stand inventory data
Wildland fire data
Climate change data
Geospatial Analysis:
Once geospatially enabled, MBS has utilized powerful geospatial analytical tools such as "Spatial Analyst", 3-D Analyst", "Image Analyst", and "Arc Hydro" to provide value-added data that did not exist before to support a variety of business needs. Such as:
Dam failure inundation zone data to support first response and emergency action planning
Irrigation inventory and condition assessment data
Wildland fire fuel, vegetation, and present burn condition data
GIS Development and Integration:
MBS has also provided COTS or custom developed web-interface enterprise geospatial solutions tailored to the needs of our clientele including:
Arc Server and Portal for an on premises solution allowing for the integration of data housed with our client to be integrated with data stewarded by other organizations.
ArcGIS Online for a more affordable, ESRI platform and software as a service solution.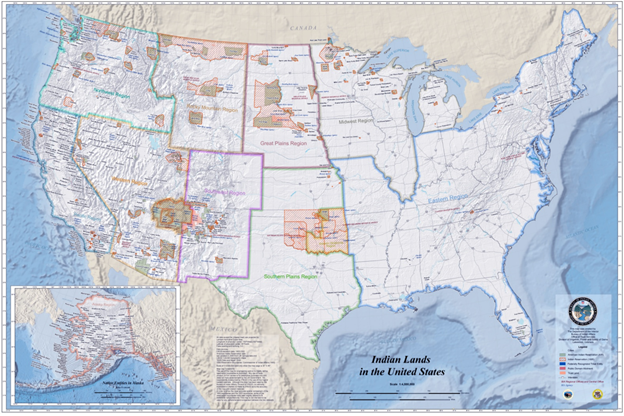 Cartographic Output:
MBS has provided many cartographic solutions, hard copy, digital, and live/interactive for multiple clientele: These solutions unlock the entire suite of services in a single, visually accessible format. MBS has been internationally recognized and awarded on more than one occasion, in this case receiving 2nd place in an international cartography competition hosted by ESRI for best data integration:
The real power behind excellent cartography is that once an effectively immersive and intuitive cartographic product has been developed, it can be repurposed an unlimited number of times at a fraction of the cost in time, allowing MBS to pass that collective time and money savings onto our customers.
This map depicts the comparison of the original 1885 and the, at the time current, 2005 boundaries of lands held in trust for Native Americans by the US Government.
Map award credit: Best Data Integration, Second Place "Indian Lands in the United States" ESRI International User's Conference, July 2009 San Diego, California